Lodges With Hot Tubs | Self-Catering Holidays with Hot Tubs
Are you looking for a relaxing getaway that combines comfort and luxury? A self-catering holiday with hot tubs could be just what you need. Imagine soaking in a steaming hot tub as you breathe in the fresh air and admire the beautiful scenery around you.
Whether it's a romantic retreat, a family vacation, or a group trip, there is something for everyone in the UK. From pet-friendly accommodation to hen party houses, from coastal cottages in Cornwall to fishing accommodation in Wales, there are lodges with hot tubs scattered all over the country.
In this post, we will take a closer look at what you can expect from a lodge with a hot tub, and how it can benefit your staycation experience. We will also cover some of the best locations and accommodations where you can indulge in this luxurious treat. Get ready to relax and unwind as we explore self-catering holidays with hot tubs!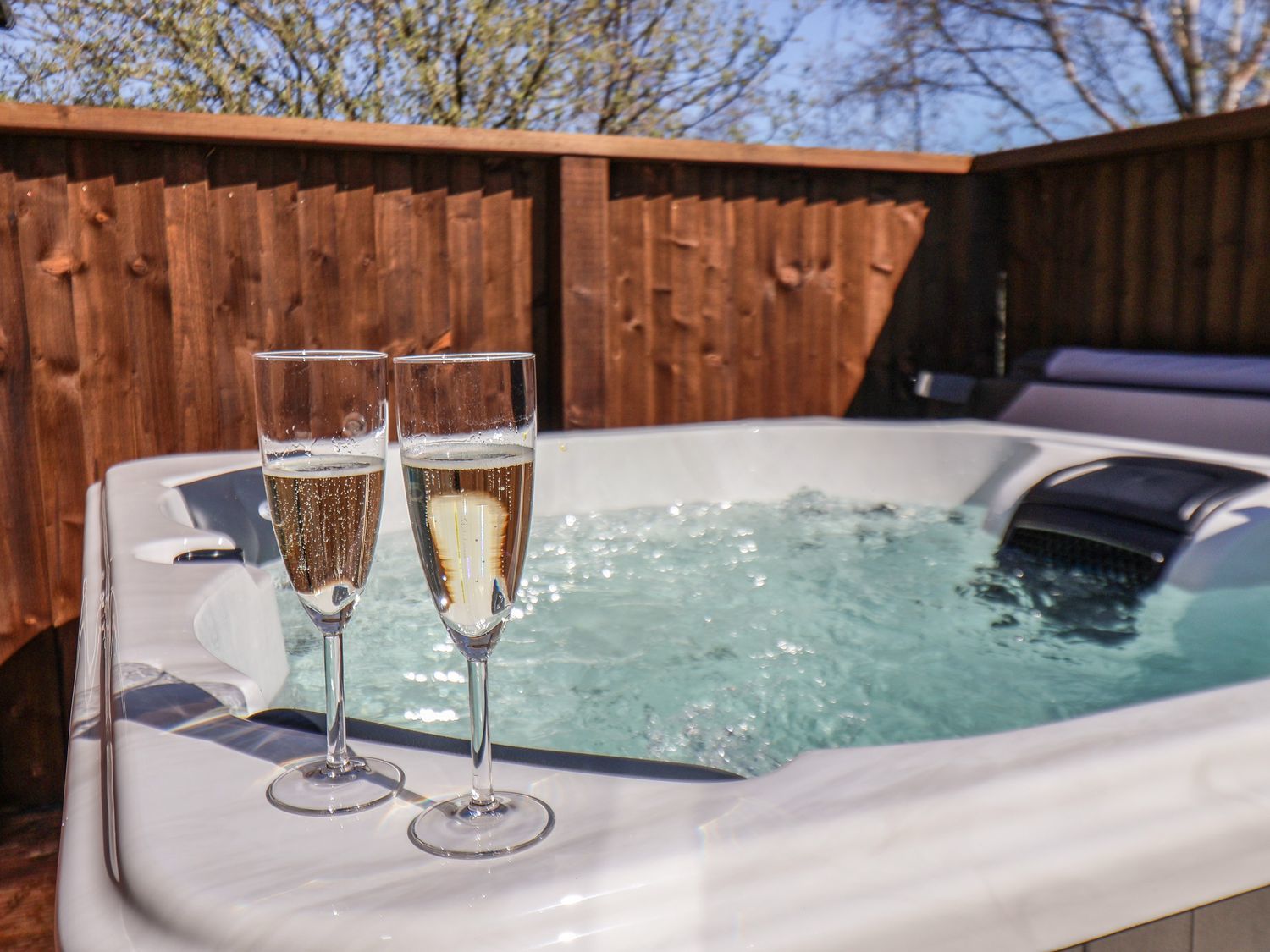 Lodges with Hot Tubs in the UK
For a luxurious and relaxing hot tub break in the UK countryside, consider lodges with hot tubs. From log cabins in the Lake District to cabins in Cornwall and everything in between, there's an accommodation for every occasion. Take advantage of additional amenities like fireplaces and outdoor seating areas while exploring the beautiful UK countryside. Remember to book early during peak travel seasons for your own private hot tub getaway.
What are the benefits of having a Hot Tub at your Lodge?
Having a hot tub at your lodge can provide numerous benefits, including relaxation, relief from muscle and joint pain, improved circulation, reduced stress, and better sleep. It's also a great way to unwind after a long day of exploring the outdoors or simply relaxing with loved ones.
Romantic Retreats for Couples
Experience the ultimate romantic retreat with self-catering accommodations that offer a bubbling hot tub holiday. Luxurious lodges and cozy cabins provide the ideal escape for couples seeking privacy and relaxation in the UK's countryside. From Devon to Cornwall or Yorkshire to Cumbria, there is a hot tub break waiting for you. With additional amenities such as spa treatments and champagne on arrival at some locations, rejuvenation is guaranteed. Explore the surrounding scenery while unwinding in your own private hot tub- the perfect way to end a long day.
Pet-Friendly Accommodation
Hot tub breaks in the UK are not just for humans! Pet-friendly lodges with hot tubs offer a unique experience for you and your four-legged friend. Stay in a cosy log cabin surrounded by woodland or explore the beautiful countryside of Devon or Cornwall. With designated outdoor areas for pets to roam and play, these accommodations provide the perfect place for family holidays. Book now and enjoy a bubbling hot tub holiday.
Fishing Accommodation
If you're a fishing aficionado seeking an unforgettable experience, consider staying at fishing lodges equipped with hot tubs. These comfortable cabins and opulent lodges are conveniently situated near renowned fishing lakes and boast extra facilities like outdoor seating spaces and BBQ grills. Due to high demand from outdoor enthusiasts, it's advisable to secure your booking well in advance.
Hot Tub Breaks in Scotland
Experience the ultimate hot tub escape in Scotland's serene landscapes with lodges equipped with bubbling hot tubs. Whether nestled near the breathtaking Scottish Highlands or along the picturesque coastline, these accommodations offer saunas and Jacuzzis for a luxurious stay. Opt for self-catering options to relish privacy and cook your meals. From romantic retreats to refreshing family holidays, hot tub breaks in Scotland are perfect for exploring scenic countryside and unwind after long days of exploring.
Getaways in Yorkshire
Experience luxury accommodations complete with hot tubs after a day of golf at some of the Yorkshire Dales' top-rated courses. With a variety of lodge options available, all located near their respective courses for easy access, you can choose the perfect spot to unwind. These lodges are nestled in tranquil woodlands, and private decks provide an unforgettable escape to relax and rejuvenate. Additionally, these lodges offer self-catering options with outdoor seating and barbeque grills for added convenience. Whether you're looking for a romantic getaway or a fun-filled group retreat, these lodges provide the ultimate in comfort and relaxation.
Coastal Lodges in Cornwall
Cornwall's stunning coastline offers a variety of coastal locations with log cabins that are perfect for indulging in a luxurious hot tub holiday. These pet-friendly accommodations provide privacy and comfort while enjoying breath taking views from your own private hot tub. With options ranging from short breaks to luxurious lodge holidays, Coastal Lodges in Cornwall cater to every need. Whether it's exploring the countryside or fishing lakes nearby, these lodges provide the perfect place to unwind and reconnect with loved ones.
Which County to Explore? : Devon, Cumbria, Somerset, Dorset and many more!
Indulge in the perfect hot tub break at lodges with hot tubs nestled in the idyllic countryside of Devon, Cumbria, Somerset, and Dorset. Relax in absolute privacy and take in breath taking views while soaking up the warm bubbles. Bring along your four-legged friend or make it a family affair with lodge accommodation that suits every occasion. Rejuvenate yourself with a sauna session or enjoy exploring miles of unspoiled nature surrounding these luxury lodges.
The Best Last-Minute Hot Tub Breaks in Lincolnshire
Choosing lodges with hot tubs is an ideal way to unwind after exploring the picturesque Lincolnshire countryside. With plenty of offers available, you can relax in your very own private hot tub while discovering nearby attractions such as the scenic Lincolnshire Wolds or the historic city of Lincoln.
To make the most out of your stay, it is important to book an accommodation that suits your requirements and preferences, whether you are looking for a cozy lodge or a luxurious cabin. A hot-tub experience not only helps you relax and rejuvenate but also offers health benefits such as reduced stress levels and improved blood circulation.
For those who love adventure, there are several outdoor activities available, like cycling, walking, or fishing. These activities provide a chance to explore the beautiful surroundings while enjoying some physical activity.
Whether you're planning a last-minute break with family or friends, lodges with hot tubs offer a perfect opportunity to enjoy a short getaway in the heart of nature. So why not indulge in this unique experience and escape from the hustle and bustle of everyday life?
What to Expect from a Lodge with a Hot Tub
Planning a lodge holiday is exciting, but adding a hot tub to your accommodation is even better. The bubbling warmth of a private hot tub is the perfect way to unwind after exploring the UK's stunning national parks or miles of unspoiled countryside. Relaxation isn't the only benefit; hot tubs offer therapeutic benefits like improved circulation, making them ideal for couples and families on short breaks or long holidays. With lodges in Devon, Cumbria, Somerset, and Dorset to choose from, you're sure to find your perfect place for a memorable hot tub break.
The Perfect Hot Tub Break for Couples and Families
Guests looking for a hot tub holiday should book lodges with hot tubs located in beautiful locations across the UK. Whether you're looking for a log cabin nestled in the peaceful countryside or a lodge accommodation near a national park with amazing views of lakes and woodlands; these lodges provide privacy and comfort to help you unwind. These lodges are perfect for families on vacation or group of friends wanting to explore while enjoying their own private hot tub.
Luxury Lodges with Hot Tubs: Gold Star Holiday Lodges
Escape to Gold Star Holiday Lodges for a luxurious self-catering experience in picturesque surroundings. Perfect for romantic retreats or family holidays, these lodges offer modern amenities like fully equipped kitchens and entertainment systems. Relax in your own private hot tub on the decking while soaking up breathtaking views of the surrounding countryside after a long day exploring nearby national parks.
Lodges with Hot Tubs: Accommodation for Every Occasion
For a memorable holiday experience in the UK, consider accommodations offering lodges with hot tubs. These accommodations are perfect for romantic getaways or family holidays where you can enjoy stunning views and indulge in outdoor activities like hiking or fishing. The self-catering options provide flexibility in meals and schedules while the hot tubs offer diverse health benefits such as stress relief and improved sleep quality. Make your stay comfortable by choosing from a variety of lodges with private hot tubs across places like Cornwall or Devon.
Conclusion
A hot tub break is an ideal way to relax and enjoy a tranquil escape from the hustle and bustle of everyday life. Whether you're planning a romantic getaway or a family vacation, lodges and cottages with hot tubs provide something for everyone. With a wide range of options available, from luxurious gold star lodges to pet-friendly accommodation, there is a hot tub holiday that caters to every taste. Book your next self-catering holiday with a hot tub in your favourite UK county, whether it's Cumbria, Devon, Dorset or Somerset. Don't miss out on the unique benefits of a lodge with a hot tub - book now!