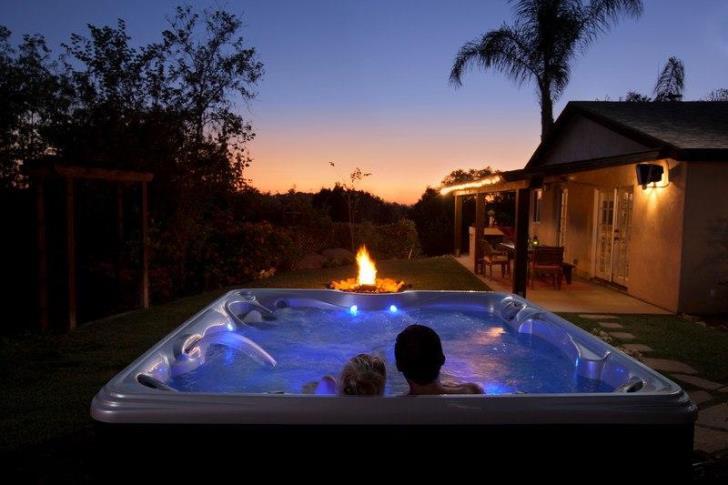 7 Best Romantic Getaways UK
If you're looking for a romantic getaway there are many places in the UK that are perfect for couples. Here are some of the best romantic getaways UK.
1 - The Lake District, England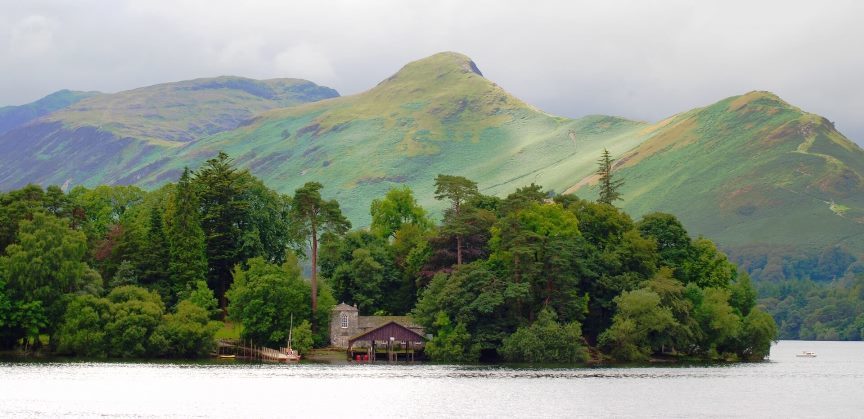 Derwentwater with Catbells in the distance
The Lake District is one the best places to visit when travelling with your loved ones. Not only because of the beautiful scenery but also for the historical value and all you can experience here. The Lake District is one of the most visited places in England with tourists from many countries enjoying nature at its best!
Some of the country's greatest lakes, highest peaks and some of the most beautiful scenery are all found in the 1,343 square kilometer Lake District National Park. Writers, poets and artists, some of whom established their home here, were influenced by the scenery and nature. The entire region is laced with a network of walking and hiking trails and some of the Lakes include historic boats you can take a ride on. There remains train access to Windermere from Kendal, where the park headquarters are located and you can tour the area by car, bus, bike, or foot. Brockhole is home to a park visitor centre and Consiton is home to a boating centre.
Some of the scenic highlights include the gorgeous Newlands Valley, the magnificent views from Sphinx Rock and the dramtic drive over Kirkstone Pass (the secenery is best going North). Lakeside villages with activities and places to stay, as well as miles of scenic roeads and trails for sightseeing, are available throughout the park. The Lake District is an area of simply stunning views which you can't miss out on!
2 - The Scottish Highlands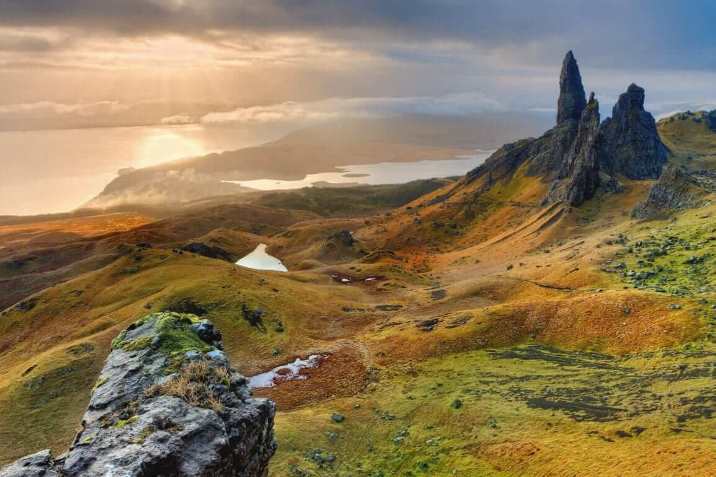 This is another wonderful place to travel with your loved ones. The Scottish Highlands have got so many gorgeous vistas that you won't be disappointed with anything, really! You will find a hugh amount of interesting places to visit and amazing views during a trip here.
The Highlands of Scotland should be on every traveler's list, but they are especially sought after by nature lovers and outdoor adventurers. The Highlands, which are located in the Western and Northern parts of Scotland, have unrivalled scenery from soaring mountain ranges to sweeping, green countryside to refreshing lochs. It's the sort of place that seems out of this world, especially when you abandon the beaten path and go into the Highlands' more remote rural areas. It can be difficult to choose what to include on a Highlands itinery, but you really can't go wrong, especially if you give yourself plenty of time to research before exploring.
3 - Cornwall and Devon, England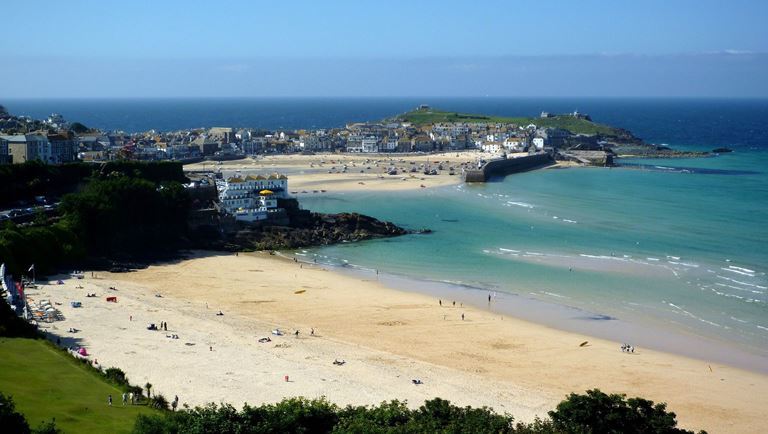 Porthminster Beach, St Ives, Cornwall, England
These beautiful counties offer some incredible sights for tourists looking for the perfect romantic getaway in the the UK! Perfect beaches, breathtaking castles and historic towns all under the same roof.
There's one aspect of these Counties that's impossible to ignore and it's the coastlines truly epic length. The combined coastlines of Devon and Cornwall run for more than 530 miles and they are flanked by the sea on three sides. You'll find huge sandy bays, secluded coves, craggy headlands and postcard-pretty fishing villages.
There's a beach to fit all tastes, whether you like to laze in the sunshine, swim in the sea, or head out in search of the perfect wave. While many areas are well known, with an adventurous spirit and some basic map reading skills there's peace and seclusion to be found in the countryside and on the coastline.
4 - Pembrokeshire, Wales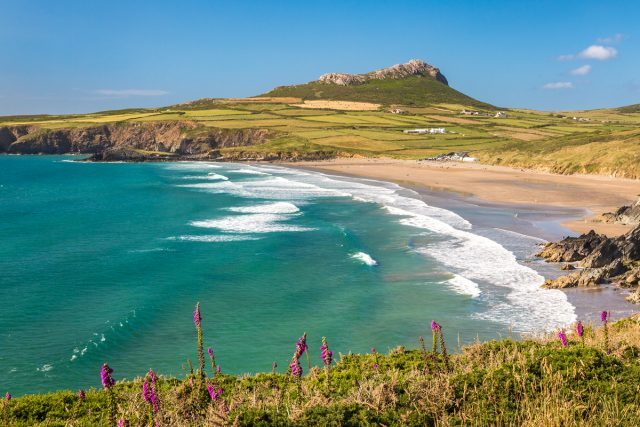 Pembrokeshire Coast, Wales
Another amazing romantic getaway is the Pembrokeshire coast in Wales. If you are looking at things close to nature then this place would be perfect for you. There are many beaches and coastal towns with everyday life mixed with history. This is also one of the very few places which offer moorland walking routes for those who want to enjoy nature in it's purest form.
Pembrokeshire is a remote but beautiful corner of the United Kingdom, with breathtaking coastlines and a gorgeous countryside alongside highly picturesque towns such as Tenby, Fishguard and Haverfordwest. Pembrokeshire is a county that is built for explorers. You can take on some coasteering or explore the coastline over the traditional footpaths.
There are a great number of castles in the county that are in varying states of repair, particularly the imposing Pembroke Castle, whose walls are place on top of a site that has been inhabited since Roman times. St David's the smallest city in the UK with it's beautiful cathedral and the Preseli Hills are also well worth a visit.
5 - The Isle of Skye, Scotland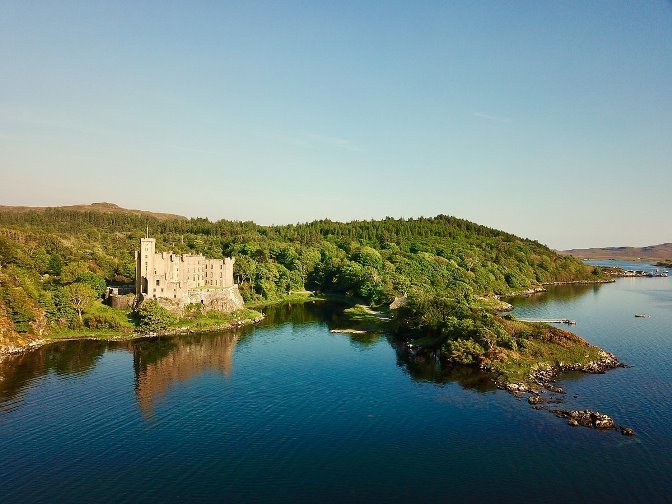 Dunvegan Castle, Isle of Skye
If you want to explore nature at its most romantic then the Isle of Skye would be your favourite place. Escape for your romantic getaway on the Isle of Skye and prepare to be awakened by miles of unspoiled landscapes and coastline, free ranging highland cattle and a real holiday freedom for romantics. The Isle of Skye is on of Scotland's most romantic spots and it's easy to see why it's been named as one of the most romantic places to holiday in Europe.
The Island possesses a rich history, covering a variety of topics, including dinosaur fossils, clan warfare, highland clearances, the infamous "Bonnie Prince Charlie" and the Jacobite rebellion. Clan MacDonald and Clan MacLeod both have their Clan Castles on the island, which should be added to your places to see.
The Isle of Skye is also a popular wildlife-seeing destination, with the White tailed sea Eagle at the top of the bird watchers list. Otters, seals, whales, dolphins and red deer are just a few of the other impressive creatures that can be found on and around the Isle of Skye.
6 - Northumberland, England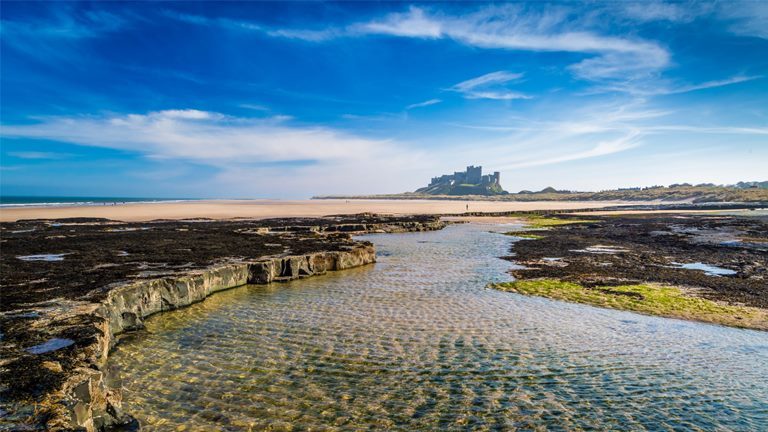 Bamburgh Beach and Castle
Big adventures, breathtaking beauty and unlimited possibilities are all hallmarks of Northumberland. Take advantage of the romantic ruinous castles, barely visited beaches, beautiful market towns and unlimited experiences.
Northumberland National Park can keep every pair of boots, trainers, wheels, or sets of hooves happy with 700 miles of footpaths and rights of way. This landscape is a true outdoor enthusiasts playground. Prepare to sweat with some full on cycling or take in some riverside ambles and breathtaking ridge walks.
In the Northumberland National Park, history buffs will be right at home. Will you peer into the past of the Roman and Reiver ancestors in historics sites and landmarks? Many superb musems throughout Northumberland are dedicated to unveiling many historic secrets employing 21st technology. There are also many stately homes and gardens to visit which are situated just outside of the park boundary.
This is a perfect destination for those who have always wanted to visit the North of England coastline. There are many good adventure to be had here and you will find peace amongst its beauty. If you expect to find beauty on your next romantic getaway then this is the place for you!
7- The Cotswolds, England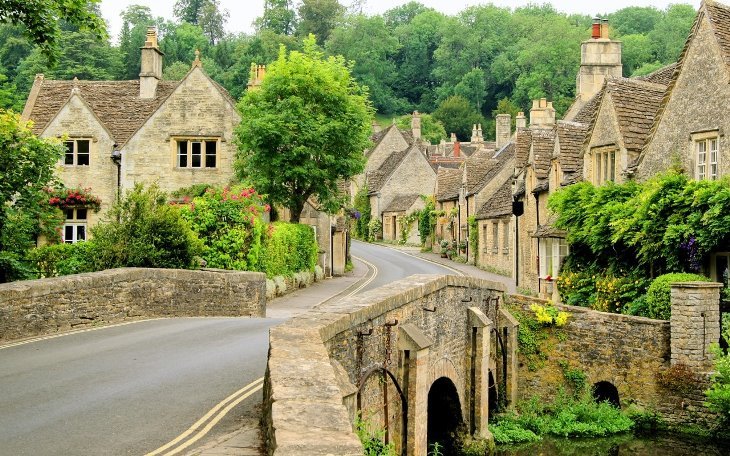 Typical Pretty Cotswolds Village
The Cotswolds are an area in England that is known for it's rolling countryside, quaint villages and picturesque churches. The area is also well known for it's vineyards, wool production and antiques. It's no wonder the Cotswolds have been a designated a UNESCO World Heritage site.
Breathtaking views of the surrounding countryside can be enjoyed from many of the village greens and churches. There are charming English pubs, cafes, tea rooms and restaurants that offer a welcoming atmosphere to slow down and sample the local delicacies.
If you are searching for things to see in the Cotswolds, there are plenty. Potter around Broadway or Bilbury, spot buzzards brushing across the hilltops, visit farmers markets for the local culinary delights such as fresh Gloucester cheese, or trade in your hiking boots for race day at the stylish regency Cheltenham.
How do you choose a good romantic getaway UK?
To keep the romance alive, surprise your loved one with a short getaway break, or even better a week at one of the above locations. The great news is that it doesn't have to cost the earth. Check for special offers, off-peak discounts and Last Minute deals.
You're not limited to the above locations and there are over 1200 hot tub getaways to choose from.
What make these Romantic Getaways Special?
Walks along the beach at sunset, a bike ride with your loved one, sipping a glass of wine while enjoying the warm bubbles of a hot tub, all of these things create romance, but we all have our personal tastes. So what creates the perfect romantic break?
8 Things to set the mood for a romantic break
Enjoy a leisurely walk
Go on an idyllic countryside or coastal picnic
Spend the day on a deserted beach
Go on a bike ride together
Visit the local farmer's market
Book a meal at a country pub.
Explore historic castles or ruins
Hire a rowing boat
Switch off your mobile devices and spend time together
When planning a romantic break, spending quality time together is an important component. You can go for a walk in the countryside, hire a boat, enjoy the day in a secluded cove, or have a go at a shared activity. Turn off your phone and focus on each other. We recognise this can be a test in this mobile device-controlled world, but just make an agreement before your planned break and invest some time in which you are both laughing, joking, and having fun!
The ideal opportunity to spend some one on one time together is a romantic getaway, be it in the Scottish Highlands, The Pembrokeshire Coast, or The Lake District. Forget about the stresses of daily life; not only that, but it has been proven that spending quality time with the one you love drives the spark back into a relationship.
Nothing expresses romance like a luxurious holiday in the countryside, and all of our romantic getaways, with special touches such as Hot Tubs, are all perfect for couples.
They can also be experienced at any time of the year, which means a romantic break for two can cost much less than you think it will, especially if they are booked at the last minute. Just imagine waking up in your king-sized bed to a view of trees with a variety of colours in the autumn, or the Scottish Mountains coated in snow. Now that is romance!
Does Your Romantic Getaway need a Hot Tub?
Yes! A hot tub is a perfect addition to any Romantic Getaway! Not only will it help you to relax and wind down after a long day of travel, but it can also be a great way to connect with your partner in the privacy of the tub whilst enjoying a glass of wine and admiring the views.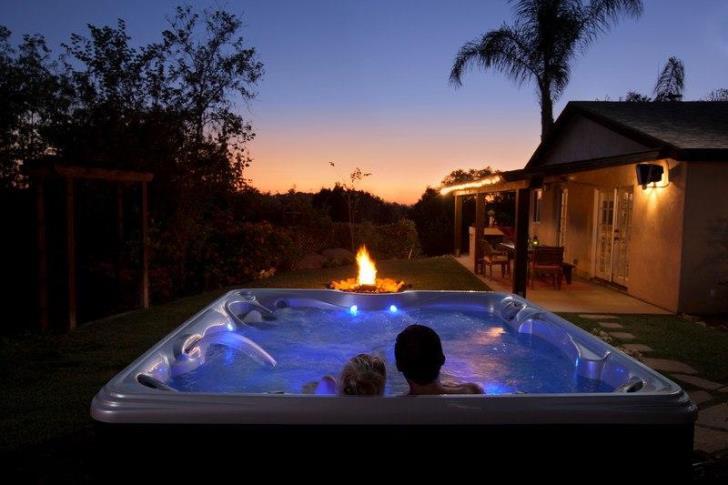 In Summary
Spending quality time with the one you love is a surefire way to reignite the spark in your relationship, and our range of Romantic Hot Tub Getaways are perfect for couples. Whether you choose to relax in a hot tub or explore the countryside by foot, we have something for everyone. So why not book your dream getaway today?